Operating from the Isle of Man we offer cruises throughout the north Irish sea, Irish coast and south west and western Scotland.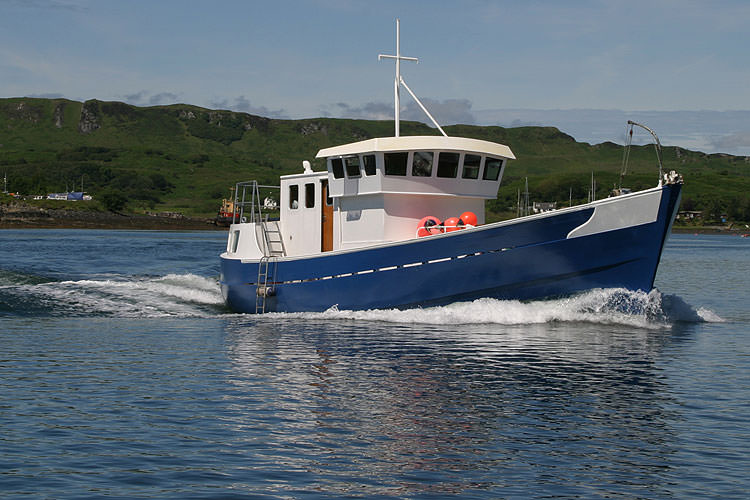 Our boat, the trawler yacht " Pelagos Venture " offers the opportunity to both groups and individuals to cruise these areas in safety, comfort and style and enjoy watching the wildlife , sea life and the costal scenery. You can go fishing, diving, exploring the coast, use our children's sailing dinghy, sea kayak, yacht tender or simply relax and enjoy the scenery. Children are very welcome as long as they are supervised by an adult. We are happy to provide "Race Boat Support" for yacht racing events such as Cork Week, Scottish Series, West Highland Week, Bangor Week etc.
Pelagos Venture is available for hire on a daily basis. She can take 12 guests and has overnight accommodation for up to 7 guests. Cruises can be arranged to suit your itinerary and time scale. We are happy to suggest routes and cruises based on our own extensive experience of the area.
Our boat costs £400 per day to hire ex food and fuel. You can arrange your own catering or alternatively we can agree and price a menu according to your needs. For trips longer than 24 hours, for logistical reasons, we recommend our catering services are used.
The 23liter six cylinder Kelvin engine uses approximately 2 gallons per hour and for your comfort we do not recommend motoring for more than a maximum of 6 hours per day. We can therefore estimate a fuel surcharge of about an additional £60-£70 per day. All fuel is metered and a consumption record will be available.
"Pelagos Venture"
Launched in 1972 by the famous traditional boat builders RJ Prior of Burnham,"Pelagos Venture" was converted from a trawler in the early 1990's and has just completed a major refit. The boat is massively built from iroko on oak frames and is certified by both the Isle of Man Marine Authorities for charter and the UK's Marine Coastguard Agency as a "yacht in commercial use". She is fully equipped with all necessary safety equipment, life rafts, electronic navigational aids and emergency position beacons.
She is operated by a certified skipper with over 35 years of experience of operating small craft and an able deck hand.
50 feet long and 17 feet wide, she displaces 40 tons. She cruises comfortably at 8 knots and has a top speed of about 12 knots per hour.
The accommodation comprises of a forward crew cabin, a large mid cabin with 4 guest berths, a shower and heads compartment, a spacious bridge , a generous galley area and a lower dining / accommodation with berths for a further 3 guests. The boat has central heating throughout.
Pelagos Yachts Ltd
Sea View, West Quay, Ramsey, Isle of Man, IM8 1DW, UK

Tel: +44 (0) 1624 819867 - Fax: +44 (0) 1624 819887 - Mob: +447624461317
dos@pelagosyachts.com